Intersectionality readings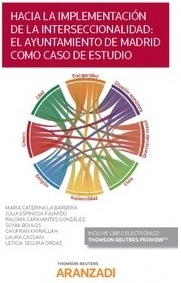 This week we recommend two readings by authors from the GEYPO group who adopt an intersectionality approach to the analysis of politics. The first is the book written by La Barbera, MariaCaterina, Julia Espinosa-Fajardo, Paloma Caravantes González, Sonia Boulos, Ghufran KhirAllah, Laura Cassain & Leticia Segura Ordaz (2020). Towards the implementation of intersectionality: Madrid City Council as a case study. Madrid: Aranzadi. This monograph explores the challenges and windows of opportunity to incorporate intersectionality into municipal policies, administrative practice and the legal instruments of the Madrid City Council. The objective is to advance recommendations to improve the implementation of intersectionality and address situations of vulnerability and multiple discrimination.
The second recommended reading this week is the article by Rubio Grundell, Lucrecia (2021) The Rise of Neo-Abolitionism in Europe: Exploring the role of the Neoliberalism-Vulnerability-Security Nexus in the Prostitution Policies of the UK, Spain, France and Ireland. Social politics. Open access, DOI: https://doi.org/10.1093/sp/jxab018
This article explains the rise of neo-abolitionism in Europe with reference to the intersection that it enables between the gender and sexual politics of neoliberalism, vulnerability, and security. Analyzing the recent adoption of neo-abolitionist prostitution policies in the United Kingdom, Spain, France, and Ireland, it contends that neo-abolitionism offers a suitable response to the needs that globalized neoliberalism creates for European states, allowing them to extend their control, disguise their moral agenda, and reproduce their material and normative foundations, guaranteeing the reproduction of the population and accumulation of wealth while reasserting their sovereignty and political identity as progressive in gender and sexual terms.
Enjoy the intersectional reads!