Democratization, Gender+ and the Politics of Exclusion in Europe, Seville, 30 June – 1 July 2022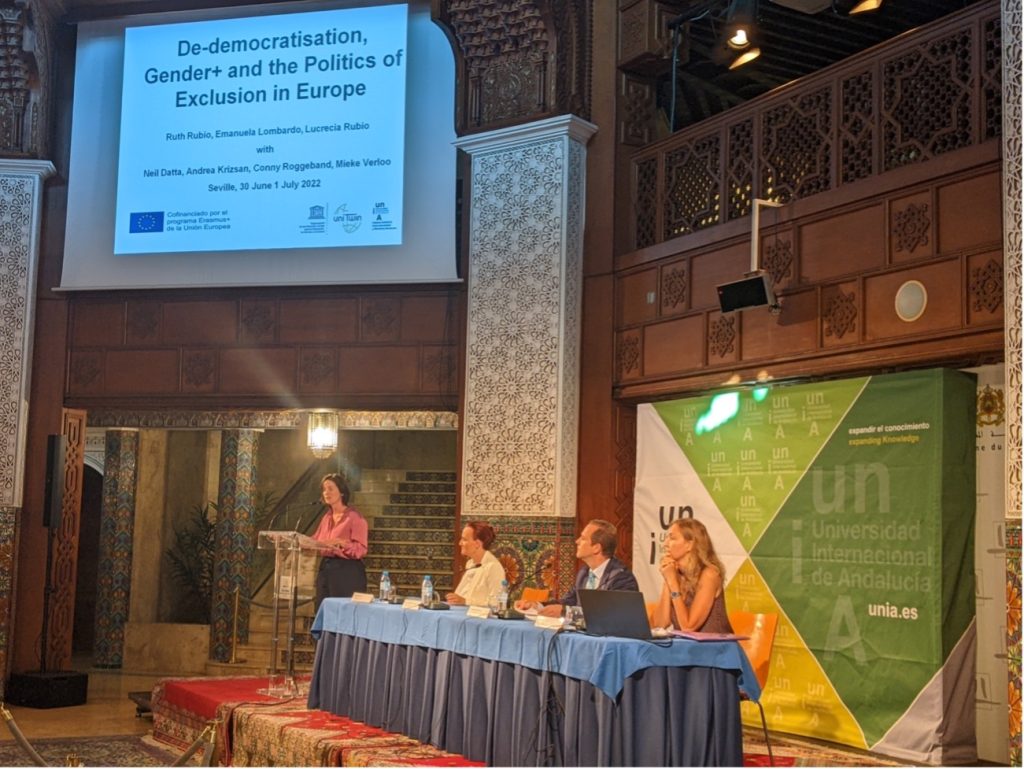 The second and last conference of the Democratization, Gender+ and the Politics of Exclusion in Europe project was held on June 30 and July 1, 2022, at the International University of Andalusia, in Seville, coordinated by Emanuela Lombardo and Ruth Rubio Marín, with Lucrecia Rubio as postdoctoral researcher, and co-financed by the European Union's Erasmus+ Program. This project pursues a double objective. First, to develop comprehensive knowledge about the intersection between gender, other axes of inequality and the de-democratization processes that are currently taking place at local, national and regional levels in the EU in order to design common strategies to combat such processes. And second, to build a robust transnational network among people from academia, politics and civil society, so as to put these strategies into practice.
To this end, two international conferences were held within the UNESCO Chair of Interculturality and Human Rights of the UNIA. The first one, which took place in Baeza, Jaén, in November 2019, brought together academic experts on the subject, from different disciplines and countries, who presented their most up-to-date research on the subject. The result was the publication of a special issue in the journal Social Politics, titled "De-Democratization and Opposition to Gender Equality Politics in Europe". The second conference, after being postponed three times due to the COVID-19 pandemic, finally took place in Seville, between June 30 and July 1, 2022, bringing together an interdisciplinary group of academics, politicians and civil society actors, resulting in a clear diagnosis of the situation, as well as a compendium of recommendations for public policies and for civil society, both available on the project website.